NiRo Music – 5th Anniversary Sampler
Aarau (Switzerland), 2nd August 2018

It's been our 5th year as a label and publishing house and we have delivered a total of 55 international high quality releases by now. In the past year we have focussed on the collaboration with our existing feature artists like Estella Benedetti, Urs Wiesendanger or the Keiser Twins, preparing future releases, or working on longer lasting ideas like Urs' album «Breakfast In Paris», which – after a 5 years developing period – has been released in May this year.

Once more, it's a pleasure to offer to friends, artists, labels and interested media our traditional Anniversary Sampler with a selection of 12 fine tracks. Below, you can find all track information and links to the artist, albums and online shops. We hope, you enjoy our selection and are looking forward to receiving your feedback on the bottom of the page.

Don't hesitate to get in touch with us through our Contact Page or sign our Guest Book.




Check out the entire NiRo Anniversary Sampler Collection: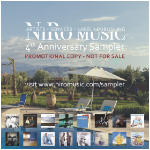 ---