Angelo Pellicorio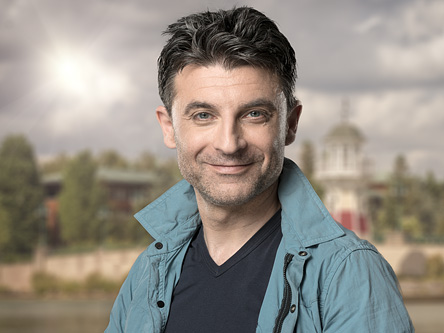 It all started with yellow string and a wooden board. That's how 8-year-old Angelo Pellicorio designed his first "guitar" and sang Mungo Jerry's "In The Summer Time." Several years – and many guitar lessons – later, the young Swiss with Italian roots started to write sophisticated Italian canzoni and performed them live with his own bands in different formations.
Angelo is of Italian descent but grew up in Zurich. Therefore, two souls are dwelling in his breast, and he gives room to each of them. He is connected to Switzerland by his childhood, youth, and everyday life, whereas Italy to him means culture, family, and holidays. Although German is the dominating language of his life, he writes his song lyrics in Italian, because it allows him to express his inner world more precisely.
Music and lyrics are equally important for the singer-songwriter, who originally intended to read classics. He always strives to combine these two elements in a harmonic and meaningful way. Angelo Pellicorio's lyrics tell stories of longing and desire during the inner and outer journey toward an ideal of fulfillment. He lets his lyrics develop quite naturally during the process of composition. Musically, the singer and guitarist has been influenced by classical music, sophisticated pop, and great Italian cantautori like Franco Battiato, Lucio Dalla, Francesco de Gregori, and Lucio Battisti. He has an affinity for jazz, as well, and studied at the Lucerne Jazz School in his earlier years.
Angelo Pellicorio is constantly looking for the unique: In his compositions, he is trying to discover unusual harmonies, and in his lyrics, he's in quest of the seemingly lost, the untraceable, the eternal. However, it's not the artificially engineered or the farfetched he is looking for; he just tries to avoid the trivial and the redundant. In this sense, Angelo will remain an eternal seeker of new sounds and stories.
Angelo Pellicorio has released his first album "Alba Chiara" in early 2015. The album was be arranged and produced by Matthias Hillebrand, phatMedia Production Studios, Pfäffikon SZ/Switzerland.
Listen to a snippet of Angelo's Radio Release "Stormi Di Angeli":

Music Styles: Adult Italian Pop, Singer/Songwriter Pop
---